Local

The department is holding a contest for Tewksbury students to help name the puppy.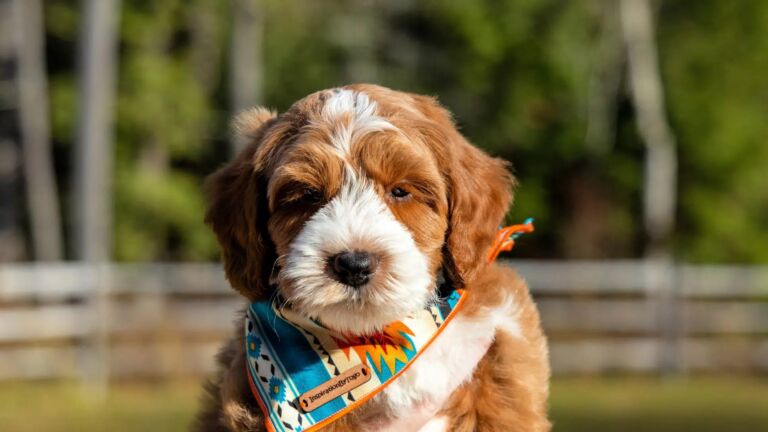 Tewksbury Police Department needs some help naming its latest addition, according to a statement from Chief Ryan M. Columbus.
The department is holding a contest for Tewksbury students to help name the puppy, who is training to become a comfort dog.
"Let's get creative and work together to welcome this young K-9 who will become both a friend and a resource to our community," Columbus said.
The pup will be partnered with School Resource Officer Eric Hanley, according to police.
The future canine comforter comes from Monadnock Labradoodles, a small dog breeder in southern New Hampshire.
Labradoodles are a cross between poodles and Labrador retrievers that were bred to create an allergy and asthma-friendly breed, according to the statement.
Police said trainers at Monadnock Labradoodles have helped select a specific puppy whose personality is appropriate for a comfort dog.
"He is a sweet, confident, calm, quiet, soulful puppy who loves human interaction and has the ability to process through new, potentially 'scary' environments," said Danielle Borozinski, a manager at Monadnock Labradoodles.
Once fully trained, police said the dog will work to calm and build relationships with students in Tewksbury Public Schools. He'll also appear at community events around town.
The department acquired the puppy and will be able to train him through donations from Monadnock Labradoodles LLC, Walmart, Salem Five Bank, Auntie Dog Training Studio, Taught-a-Lot Childcare, and WellPet LLC.
To submit a name before the deadline on Nov. 30, click here. 
The pup will join Hanley and Tewksbury Police on Nov. 28, and then attend training at Auntie Dog Training Studio in Tewksbury.
Newsletter Signup
Stay up to date on all the latest news from Boston.com